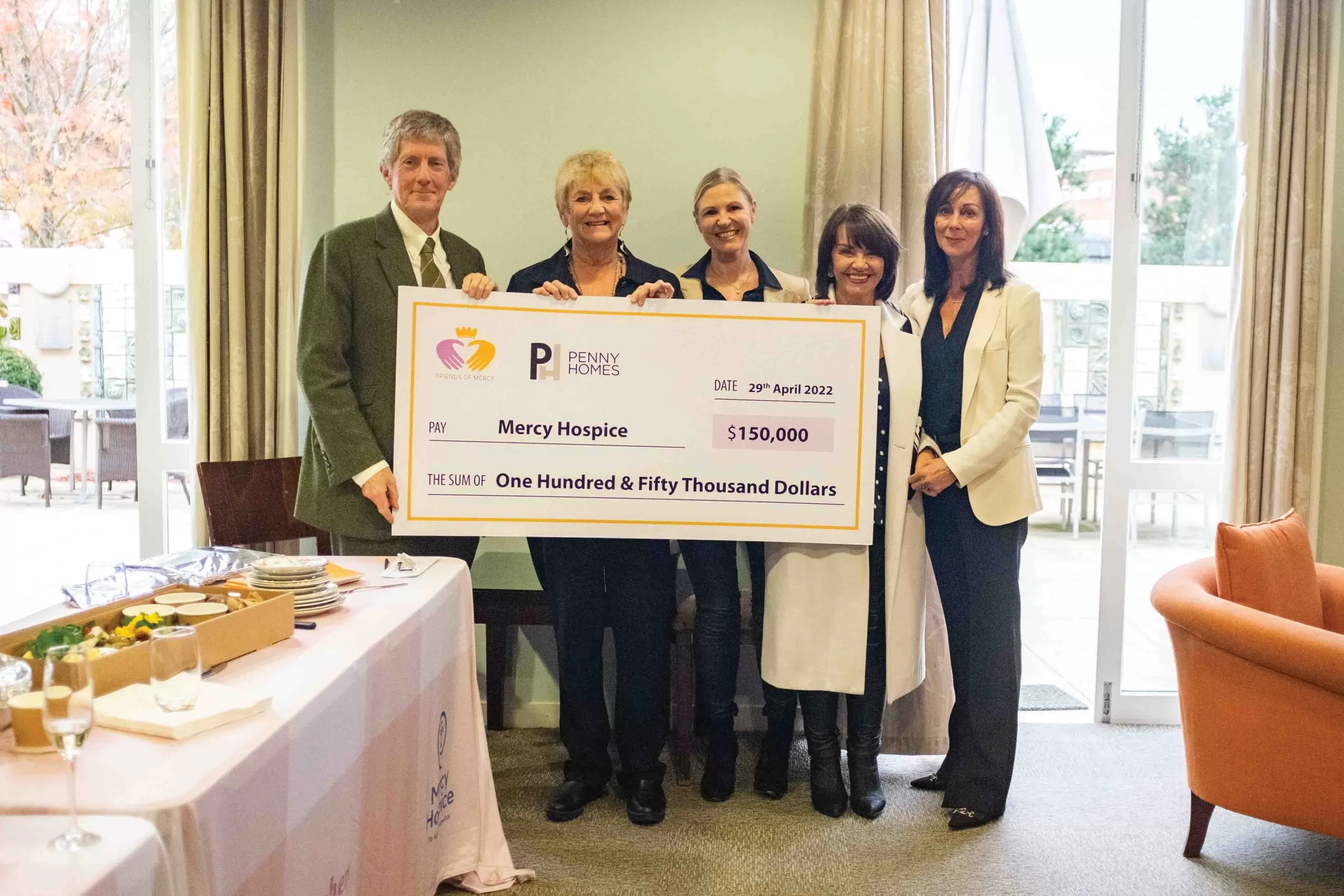 (L-R) Arthur Morris, Chairman Mercy Healthcare Auckland with Friends of Mercy's Penny Clydesdale, Margo Stewart, Cheryl Whiting and Maria Ryder.
The Houspice Project raises $150,000!
The Houspice Project is a fairy story come true that started over two years ago. Maria Ryder, one of the Friends of Mercy (FOM), was enjoying a drink with her friend John Penny of Penny Homes, explaining how their role is to help Mercy raise the millions needed to continue to provide its services free to anyone with a life-limiting illness.
John's response? "So, what if I gave you a house at cost?"
"What!" Maria exclaimed. "Wow, that would be incredible!".
And so the Houspice Project began, the start of an amazing collaborative effort, which has ultimately raised $150,000 for Mercy Hospice.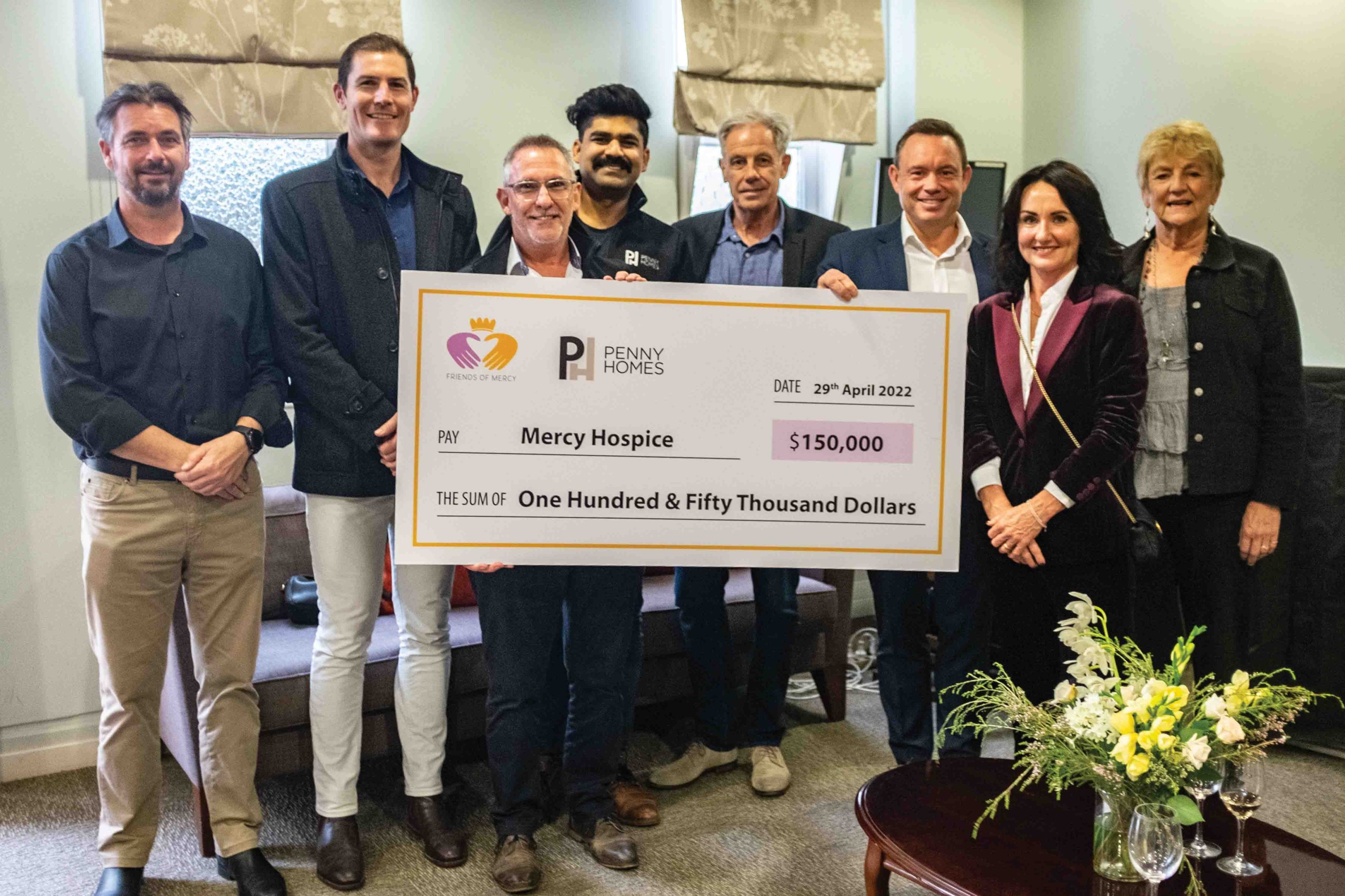 Donors – Dave Christensen and Mitchell Sanson from GIB, Mark Little, Roberston's Bathware; Mayank Aggarwal Penny Homes; Paul Fielding-Warm Up and Tranquility NZ; Steve Bowden, Penny Homes; Tracy Harford, E>stone and FOM Trustee Penny Clydesdale.
Donors not present – Base Up, Carters, DVS, EEC, Harrisons Carpet, Paintfectionists, PB Joinery, Premium Roofing, Plumbing World, Proscapes, Tile Tonic Lounge, Proscapes, Wiretech, Z&C Flooring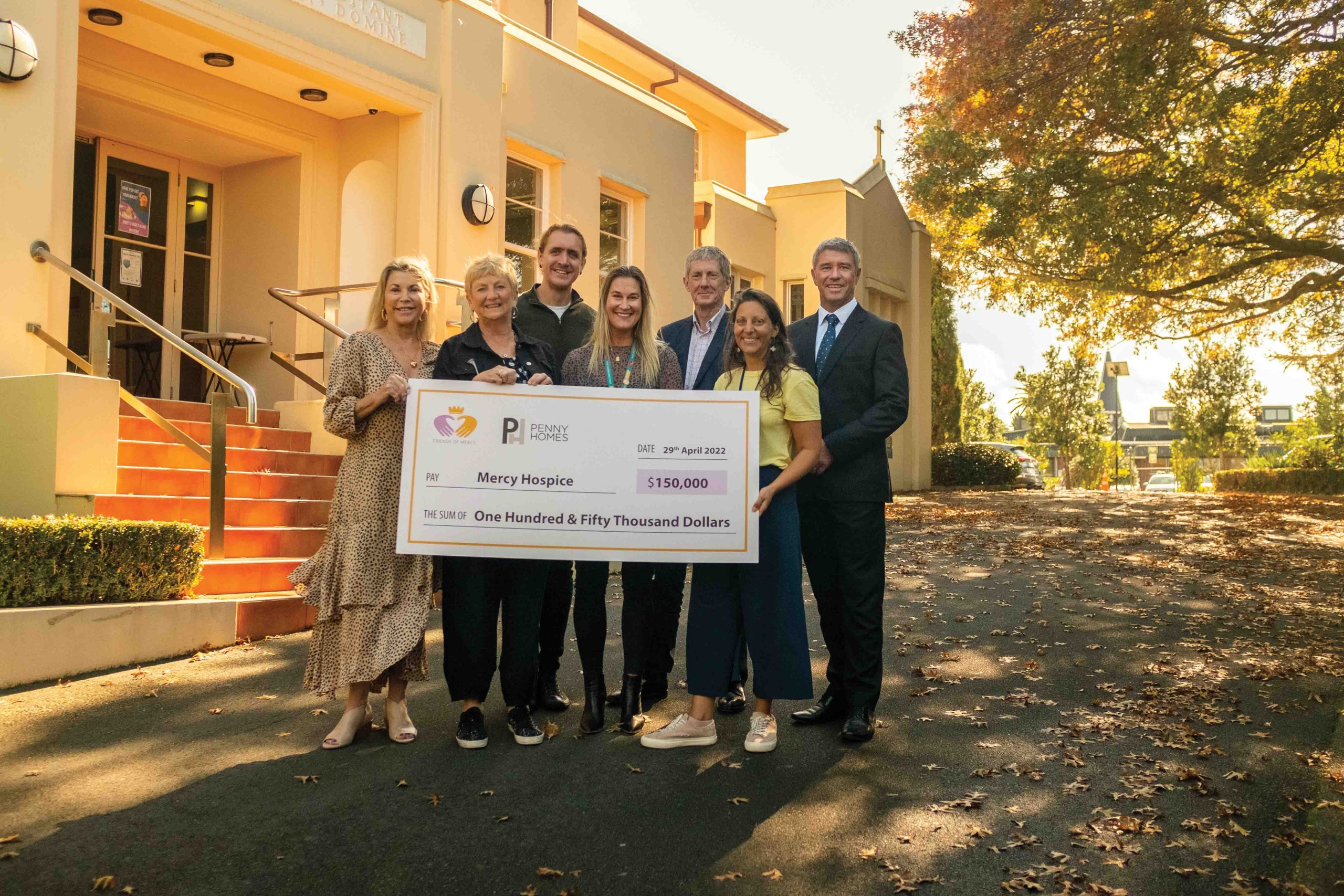 (L-R) Chrissy Douglas, Penny Clydesdale, Chris Harris, Fundraising Manager, Anna Baird, Head of Fundraising, Communications & Retail, Arthur Morris, Chairman Mercy Healthcare Auckland, Olga Darkadaki, Partnerships and Events, Dene Coleman, CEO, Mercy Hospice.
The power of friends
John and Kellie Penny's offer of a house at cost for their charity of choice would deliver much needed funds – the profit from the house sale. But both John and Kellie's team and FOM decided to aim even higher, by working to reduce the costs of the house even further. They would reach out to their many contacts to either donate goods and services to the house or provide them at cost, thereby increasing the final return to Mercy.
Incredible generosity
The response was humbling. Frames, trusses, GIB board, the foundation slab, the roof, all the kitchen joinery, tiles, carpet, a stone bench top and splashback, bathroom fixtures and fittings and much, much more.
The house is part of a Takanini development in high demand. After many months of disruption through Covid lockdowns, huge shortages of materials and workers and massive increases in construction costs, the house is now complete.
The final funds raised: $150,000 presented to Mercy Hospice for patient care at an event on May 31st. All because of the power of friends working together to achieve an incredible outcome for our community.
Share this Mercy Story

Do you have a Mercy story you would like to share with readers of Mercy Matters?
If you enjoyed reading this, then please explore our other articles below: