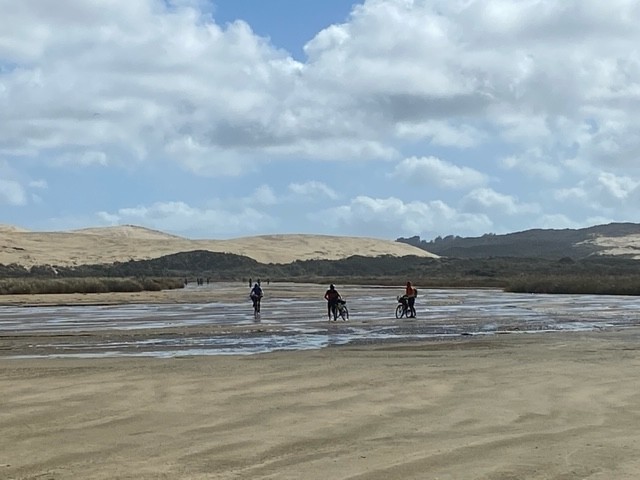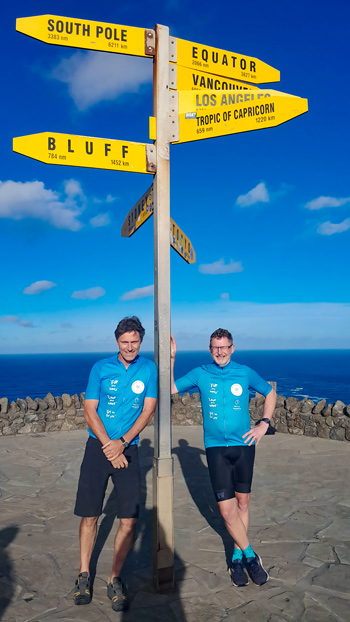 On February 17, amid the turbulent weather so many had to contend with, Andrew Trevelyan and Steve Cassidy started their grand cycle of New Zealand, the Tour Aotearoa, in memory of their friend, Jim Swanson, who passed away at Mercy Hospice on September 17, 2022.
This epic cycle was also a fundraiser for Mercy Hospice and a wonderful way to express thanks for the palliative care their friend and his wife Vicki received. Andrew and Steve's hope is that even more Aucklanders can experience the same quality of care.
The intrepid cyclists' plan was to sprinkle some of Jim's ashes in Cape Reinga and take a small amount of ashes the length of the country. This way they can say that Jim came along for the ride. Vicki kindly had this to say:
"I will continue to support your amazing facility, in whatever way I can, and for as long as I can. I still don't have the words to express my respect for you all, and, of course, my gratitude for your care of my fabulous husband."
Thank you so much Vicki, and of course Andrew and Steve for such a wonderful way to pay tribute to Jim. To date, they have raised almost $7,000, smashing their original $5,000 target! A superb result and an inspirational way to show love for Jim and their community.
Congratulations to fellow cyclist Allan Postance
Allan Postance also completed his second Tour Aotearoa in memory of his mother, herself a Mercy supporter and patient. Thank you, Allan, for being such a courageous and inspirational fundraiser!
"The Tour itself was great and presented a whole lot of different challenges to my 2019 one." Allan Postance.
Share this Mercy Story

Do you have a Mercy story you would like to share with readers of Mercy Matters?
If you enjoyed reading this, then please explore our other articles below: