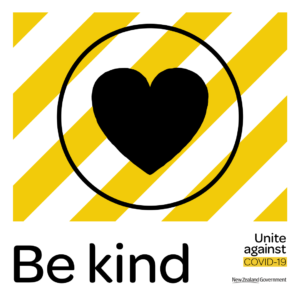 Auckland moved back into Alert Level 4 lockdown at 11.59pm on Tuesday 17 August and Mercy Hospice wishes to put your mind at rest that throughout the Covid-19 pandemic our team continues to care 24/7 for our patients and families whether via the Inpatient Unit (IPU) in Ponsonby or through the Community Care service.
The Mercy team have shown their resilience and their ability to work differently to provide excellent care in this extremely stressful, changing Covid-19 environment. We were successful when the virus first hit and we will be successful again.
However, as a result of the Alert Level 4 restrictions, Mercy Hospice has had to meet some challenges to ensure the safety of our patients, families, staff and volunteers. Please note we are asking COVID-19 screening questions when accessing our building at College Hill and if our community team are to visit people in their homes. Sadly, those with potential COVID-19 symptoms will not be allowed on site or be able to be visited by our community team until the person has tested negative for COVID-19.
Please take a moment to read on to find out more or if you have specific enquiries feel free to contact us at mercyhospice.org.nz/contact-us/.
Thank you again for your understanding during this difficult time.