You

r purchases are

 

turn

ing

 

 




second-hand goods into first class care
When you shop with Mercy Hospice, you really do make a difference. In fact, purchases from any of our nine second-hand shops enable the continual provision of free care for over 300 Aucklanders with life-limiting illnesses and essential support for their whānau.
Let's grow sustainable shopping in Auckland!
Are you (or do you have a friend who's) seriously into opshopping, passionate about sustainable shopping and taking care of our planet and local community? Follow us on @Mercyhospiceshopnz for daily updates on new stocked items, heaps of interesting content about sustainable shopping and how to get the most from your online shopping experience with Mercy.
Without your generosity and continual donations, our shops simply couldn't run. That's why all shops accept donations Monday – Saturday. If you wish to drop items off on Sundays, please bring them to either our Remuera or Mt Roskill shops.
To donate larger furniture items, or have household or estate lots collected, we offer a free van pick up service from Ellerslie:
Ellerslie Furniture Shop: (09) 5793814 between 10-4pm
Mobile: (027) 8085572 between 10-4pm
Email:  [email protected] 
Thank you for your ongoing support!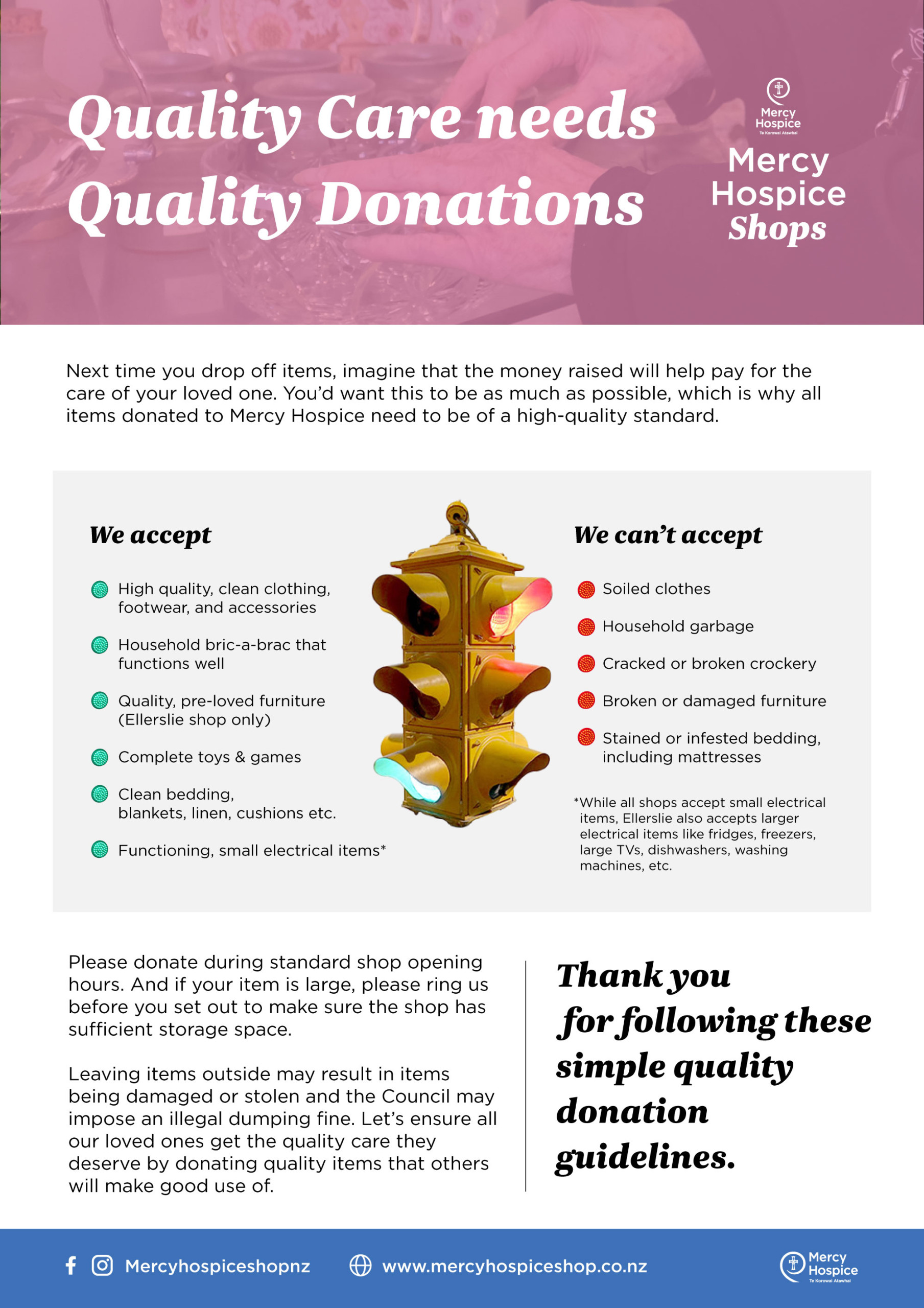 From Wednesday November 10 all nine of our physical shops will be open and trading as per the government's safety protocols for Level 3.2. This means we will be:
limiting customer numbers so everyone can safely stay 2 metres apart
asking customers to stay home if they are unwell
reminding customers to scan in using the NZ COVID Tracer app every time they enter a store
offering contactless options for payment, pick up and delivery
providing hand sanitiser for people to use, and regularly cleaning and disinfecting shared surfaces
ensuring staff and volunteers will be wearing face coverings
We ask our customers who enter our shops to wear a face covering as per Government guidelines.